Friday Favourites: Autumn 2016
By Anne Perry
It's September! And you know what that means: pumpkin spice everything. Also, warm coats, rich colours, conkers and our favourite time of year… Halloween! Today the team shar what they're most looking forward to this autumn.
Brooklyn Nine-Nine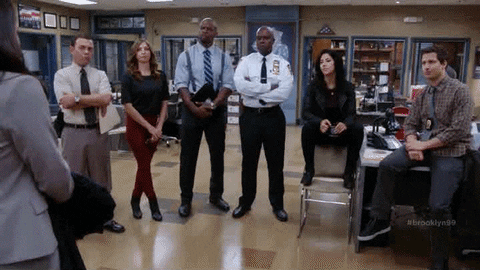 I have been looking forward to this moment for so long – it feels like a lifetime ago that Brooklyn Nine-Nine graced television. It makes its glorious return on 20 September 2016, and yes I know it is the US season premiere, but that doesn't make me any less excited.
If you haven't seen Brooklyn Nine-Nine then I feel bad for you because honestly the show is fantastic – with Andy Samberg as your lead guy it is easy to see that jokes will be coming fast and often – and it always delivers silly banter, plots and characters, but all done skilfully and hilariously. The whole cast is great, not one character out of place and each with their own individual humour that adds to the show. My favourite is the dry monotone of Captain Ray Holt – honestly, you'll fall in love with him.
My final word on it – the show is silently brilliant, a multi-ethnic cast that don't draw to the fact that they are all from different social classes, races and sexualities, they are who they are without any attention needing to be drawn to it. Everything about the show is great and the first two seasons are on Netflix in the UK, so with that here's my warning: it might take you an episode or two to get into the style of comedy but once you're in you are hooked.
Poldark
I am looking forward to the second series of Poldark. The BBC trailers for it have simply been…loin-melting. Alas in this series Aidan Turner won't be getting his kit off and scything semi-naked in the light of the Cornish sun (apparently Cornwall is 'chilly' in autumn) – but I expect he will be looking by turns sexy, noble, anguished, angry, brave, sexy (always sexy) and so on, his dark, wavy strands catching in the salty wind of the sea, his stubble-roughened jaw causing women (and perhaps men) all over the country to spontaneously explode in ecstasy at the thought of rubbing their faces up against it. Oh, hang on… the plot, I forgot the plot. Series 1 ended on a major cliffhanger – perhaps one of the first to take place on an ACTUAL cliff. I will include no spoilers, but things weren't looking too good for Ross and his wife Demelza. I look forward to series 2 delivering more drama, more tears, more passion, and more fantastic acting (it really is very good). Sunday nights are set to improve enormously.
Rogue One: A Star Wars Story
I was initially very, very sceptical when the news that Disney had bought Lucasfilm came to light. I wasn't particularly bowled over by the prequels; all style and no substance, I thought. And I assumed the first Disney-led film would be the same. How I was reassured that The Force Awakens brought us A New Hope-style story with shiny, new characters. I now dare to believe that the Star Wars franchise can claw back the respect they left behind with the prequels.
Rogue One: A Star Wars Story ticks a fair few boxes for me in what I like in a film:
universe expansion
female leads that are strong and have an unlikeable quality (and hopefully there won't be an unnecessary romance ahead)
inspiring music (welcome to my playlist, piano version of the Imperial March)
overcoming the odds
AT-ATs
another morbid robot with a head for stats
fights, brawls, and facing the Empire head-on
One thing missing: I need lightsabre action.
Doctor Strange
Obviously I am all about Bemberdoodle Cumerbund, as a living, breathing human being ought to be. But I am also all about dat cast. Chiwetel Ejiofor, Benjamin Bratt (?!), Mads Mikkelson and that glorious work of art, Tilda Swinton will be joining Bumblecrunch Candlewick as he takes on one of Marvel's more… shall we say outre characters in a movie that will somehow tie into the gordian knot that is the infinity stones multi-film thing the MCU has going on right now. Although I'm sorry Marvel didn't take Dr Strange's movie as an opportunity to play around with gender and representation, and cast Strange as someone other than a white man, Bibblesnick Cuddlebunch is always fun to watch and will surely turn in a credible performance. And the rest of the main cast is notable for being totally electrifying, so yeah. I'm really looking forward to this one…