Extract and Preorder Giveaway: To Be Taught, If Fortunate by Becky Chambers
By Sam Bradbury
Only 1 week to go until To Be Taught, If Fortunate!!
'It's been fifty years since we left Earth. If you read nothing else we've sent home, please at least read this.'
Hello space travellers!
We have two special treats for you today, in celebration of the fact that To Be Taught, If Fortunate, the brilliant new novella from Becky Chambers is released in LESS THAN A WEEK!
Firstly, we have an exclusive extract. The opening of the novella is main character, Ariadne's, plea to those who have received her message. Please read this – her fate, and the fate of her crew relies on it. Scroll down to the bottom to read when you're ready. But before you do that…
Secondly – have you heard about our amazing preorder giveaway? If not, don't worry, there's still time! All you have to do in order to receive one of these stunning travel journals is to preorder in any format, at the retailer of your choice and submit your receipt here. Easy as floating in space! You'll be documenting your space voyage along with the crew in no time! See the preorder links below for easy access!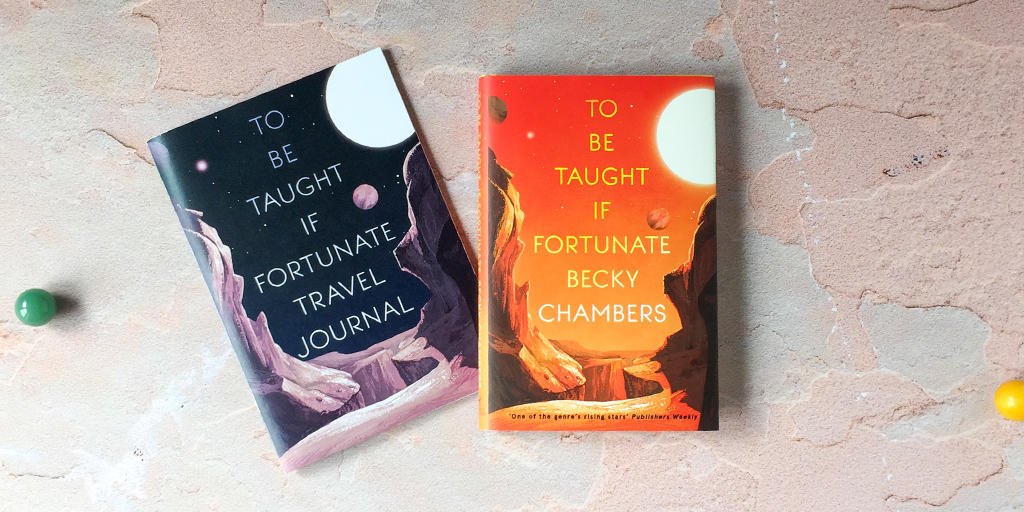 Preorder links!
Please Read This
If you read nothing else we've sent home, please at least read this. I ask knowing full well that this request is antithetical to what I believe in my heart of hearts. Our mission reports contain our science, and the science is by far the most important thing here. My crew and I are a secondary concern. Tertiary, even.
But all the same, we do have a lot riding on someone picking this up.
You don't have to rush. This file will have taken fourteen years to reach Earth, and assuming that we have the good luck of someone reading it right away and replying straight after, it'd take that file another fourteen years. So, while we can't wait around forever, the urgency – like so many things in space travel – is relative.
You could, I suppose, skip right to the end. You wouldn't be the first person to do such a thing, and honestly, that's where the bit that affects us most will be laid out. And maybe, if you already know who we are and what we're about – if you're someone who sent us here, perhaps – you can do that and still understand. But even if that's the case, I do think the why of what we need from you is important. I'm biased, of course, and doubly so: Not only is this account about me and my crew, but we're scientists. We live and breathe why.
It's been fifty years since we left Earth, and I don't know
whose eyes or ears this message has reached. I know how much a world can change within the bookends of a lifetime. Causes shift and memories blur. I also don't know how much you personally know of the universe beyond our home planet. Perhaps you're one of the knowledgeable sorts I've already mentioned, who can rattle off spaceflight history better than even I can and who shares the same goals as me. Or perhaps you're someone who lives outside my bubble. Perhaps this is all new to you. When I use words like 'exoplanet' or 'red dwarf', do you know what I mean? This is not a test, and I absolutely do not judge if terms such as these mean nothing to you. On the contrary, I want to speak to you as much as I want to speak to my peers – maybe even more so. If I ask what I'm asking only of people who agree with me at the outset, with whom I already share a dream and a language, then there's no point in asking at all.
For this reason, I'll do my best to speak to expert and novice both. I likewise feel it important to start from the beginning,  so that the context of our situation is clear. I doubt what I write will be objective. I will almost certainly contradict myself.
I do promise that I'll tell the truth.
My name is Ariadne O'Neill, and I'm the flight engineer aboard the OCA spacecraft Merian. My crewmates are mission specialists Elena Quesada-Cruz, Jack Vo, and Chikondi Daka. We're part of the Lawki program, a broad ecological survey of exoplanets – that is, planets that do not orbit our sun – known or suspected to harbour life. Our mission (Lawki 6) is focused on the four habitable worlds in orbit around the red dwarf star Zhenyi (BA-921): the icy moon Aecor, and the terrestrial planets Mirabilis, Opera, and Votum. I'm currently stationed on the surface of the last on that list.
I was born in Cascadia on July 13, 2081. On that day, it had been fifty-five years, eight months, and nine days since a human being had been in space. I was the two-hundred-and-fourth person to go back, and part of the sixth extrasolar crew. I'm writing to you in the hope that we will not be the last.
To Be Taught, If Fortunate will be released on 8th August 2019.