Captain America: THE RECAP
By Anne Perry
Captain America: Civil War is now out in cinemas. You probably need a bit of a refresher on the Captain America story before you go see it (again), right? One with kittens? Don't worry – we're totally here for you.
CAPTAIN AMERICA: THE FIRST AVENGER
Once upon a time there was this guy, Steve Rogers, who was really little. But he didn't like bullies and wanted to go fight in WWII. He totally had HEART.
And then he got big. With super-serum that Iron Man's dad gave him!
Also he made out with Agent Carter, and we all cheered because Peggy is THE BEST.
Then he got frozen for 70 years.
THE END
NEXT: AVENGERS ASSEMBLE. Avengers Assemble was kind of about how Steve is now alive in the modern day and kind of sad and lonely. He punched a lot of punching bags and felt like he didn't have a purpose.
AND THEN LOKI SHOWED UP AND RUINED EVERYTHING.
Nick Fury was like, Steve, you have to go save the world, and sent him to this giant floating submarine/aircraft carrier,
where he met all the other Avengers, specifically Tony.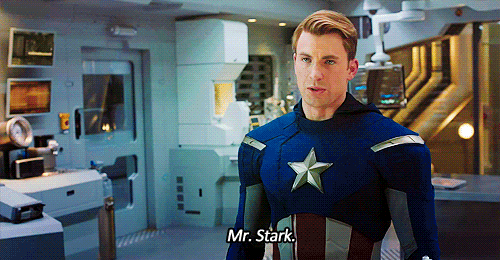 Tony and Steve argued a lot. Avengers Assemble was mostly about how Steve and Tony don't get along.
Also Loki, and some aliens, I guess. But mostly about Steve and Tony.
OKAY FINE also Tony and Bruce. Sciencebros 4eva.
Anyway, Tony's all 'you're just some walking, talking propaganda' and Steve's all 'you're super egotistical' and that was their relationship.
But then LOKI.
And there was some fighting and some aliens and gradually Steve and Tony learned each other's value and saved the world.
THE END
Then CAPTAIN AMERICA: THE WINTER SOLDIER happened.
Steve was still sad and lonely.
So he made a friend: SAM WILSON, AKA THE BEST AVENGER, AKA FALCON.
And he had some adventures with Nat, the Black Widow, which at one point involved them kissing, and that was pretty hot.
And then he found BUCKY OMG GASP.
Bucky was Steve's friend back in the 1940s. Bucky died, tragically, while on a mission with Steve. OR DID HE. (spoiler: he was actually captured by the bad guys and turned into THE WINTER SOLDIER, which is Bucky + crazy mechanical arm + long hair + bad attitude – memories of Steve.)
So the bad guys send Bucky out to kill Nick Fury, which is crazypants because Nick Fury is unkillable.
But everyone THINKS Nick Fury is dead and they are all super sad.
And Steve is DOUBLY sad because of Bucky.
Anyway, um, long story short, Nick Fury isn't really dead, and he and Steve and Nat and Sam go all Star Wars: Rogue Force One and fight the bad guys and then Steve saves Bucky even though Bucky doesn't remember Steve and is also trying to murder him. THE END
Then it's time for AVENGERS: AGE OF ULTRON, which was a little jumbled.
FIRST everyone had a fun party.
Then Bruce and Nat had feelings.
But Tony freaked out and made a CRAZY MURDERBOT
and the CRAZY MURDERBOT made a SECOND crazy murderbot
and like a million MINION MURDERBOTS.
And also lifted a city into the air planning to then drop it and kill everyone? IDK it was a weird plan.
Except CRAZY MURDERBOT made the SECOND crazy murderbot out of Jarvis, so naturally Jarvis turned into Paul Bettany and floated around a bit and then defeated CRAZY MURDERBOT on the floating city or something.
ALSO Thor went for a  swim.
Steve was basically like 'Ima go over here and chop some wood with my big muscles.'
(That's basically all I remember from Age of Ultron)
Then there was a SIDE ADVENTURE when Ant Man had to break into the new Avengers compound and steal something and had to fight SAM THE AWESOMEST AVENGER. It was very funny.
OKAY WE ARE NOW FINALLY AT CAPTAIN AMERICA: CIVIL WAR
Aka Steve and Tony get mad at each other.
PS It's awesome. Definitely go see it.